Tai Lopez Social Media Marketing Agency Review
This is my Tai Lopez Social Media Marketing Agency review so you can know which ones are the lessons and analyze if this program is for you.
Additionally, if you want to read the review of the 300 frameworks of wealth.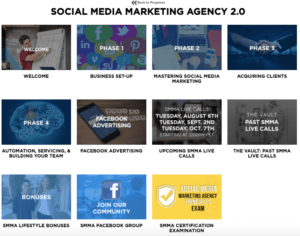 Tai Lopez Social Media Marketing Agency review: Phase 1
These are the lessons of phase 1. Business Setup.
In the first video, Tai Lopez gives you a welcome to the program.
The core fundamental of this program is to teach you how to manage other businesses' social media, so they will pay you a monthly fee for your service.
Welcome to SMMA
Tai's script on how to get paying customers.
How to get more paying clients
Understanding Major social media & Internet marketing channels.
Businesses to go after & which to avoid
The business model
Naming your company
Forming your company
Picking your domain name
Telling your story through social media
How to set up your pricing
Deciding who your customer is
Finding your niche
It's a number game
How to motivate yourself past your fears
Building your website with Peter Wang
The basics for business owners with Adam Torres
How it all comes together Overview
Getting clients without experience
Create a Facebook offer for your clients with Joe Soto
How to get 1000 email Leads for $100 with Facebook Ads
How to use Facebook Advertising to get results for clients
5 Proven ways to find local clients
Click here to Join Tai Lopez Social Media Marketing Agency
Tai Lopez Social Media Marketing Agency review: Phase 2
These are the lesson of phase 2. Mastering Social Media Marketing.
In the first video, Tai Lopez explains how to use Twitter for business.
Introduction to Twitter.
VRIN scores
How to set up your first lead generation funnel
How to scale your Facebook ads to $10k a day.
Writing Ad copy that converts
How to boost engagement on your Facebook Ads.
Instagram Growth Hacks with Nathan Chan
Develop a sales funnel For Instagram with Nathan Chan
Use Instagram for local business with Nathan Chan
Advanced youtube marketing techniques
Advanced Instagram Marketing strategy with Dan Fleyshman
The audience first with Raymond Duke
7 Social Media copywriting tips you can use today
Get customers to write for you
Website optimization
3 Advanced tips to instantly increase engagement of any page with Alex Mehr
The 4 stages of Email Marketing
Strategies behind building 6 figure funnels for your business
The cheapest way to capture email leads
How to make videos go viral on Facebook & get views for less the one penny each
Google ads
The state of social media
The importance of focusing your niche and creating more leverage
Twitter insights with Felix Hartmann
Profit cycle formula with Anthony Morrison
4 steps to marketing Ecomm Businesses with Adrian Morrison
Rapid testing formula with Adrian Morrison
The use of Facebook pixels with Bryson Hilton
Turning a lead into a paying customer
Breaking down Google AdWords with these steps.
Josh Earp's overview
Market research with Josh Earp
The power of SEO with Josh Earp
Getting equity with Josh Earp
Off-page optimization with Josh Earp
Tiered Link Building with Josh Earp
The power of Snapchat and how to leverage it to build your business with Chris Record
Generate Facebook Lead Ads with Michael Crouch
Build popular content and increase views organically with David J. Woodbury
Facebook retargeting with Peter Dulay
20 Ways to find clients
Facebook Ad frequency and Relevance
Creating your Ad copy and images
Essential metrics
Facebook ad structure.
Facebook ad types
Using Facebook Audience insights
How to set up a saved audience on Facebook Business Manager
Set up your custom audience on Facebook
How to set up your Facebook pixel
Most recommended tools to create Ads on Facebook, Instagram & Youtube
Closing clients through cold calls & cold emails
7 cool Facebook ads hack
Scaling your Facebook ads
How to be an Instagram rockstar
Using Facebook Lead ads & Zapier.
Click here to Join Tai Lopez Social Media Marketing Agency
Social Media Marketing Agency phase 3
Phase 3 has the lessons for acquiring clients. In the first lesson, Mike Arce explains how to get ideal clients for your business.
These are the lessons for phase 3:
A unique way to get the ideal clients with Mike Arce
Increase your closing rate with the Customer value journey formula
Using social media to get local PR with Joe Soto
Local Agency marketing methods: How to capture clients in your own backyard with Joe Soto.
Sales strategies with Chris Record
Finding your clients specialty with Jaiden Gross
Understanding objections vs complaints
Qualifying Business owners with Jaiden Gross
The guinea pig: Embrace failure with Jaiden Gross
Telemarketing and phone sales with Jaiden Gross
Strategies to acquire clients with Dan Fleyshman
How to acquire bigger business clients that make over $10 million in revenue
Persuading clients to sign up
How to acquire clients using social media audits
Present your services and get instant buy-ins
How to collect recurring payments from your clients
Methods to increase your clients ROI's after your close the deal
Going to the source of the money
How to get qualified prospects with Bryson Hilton
Exploring methods to getting new customers with Bryson Hilton
Bryson Hilton unveils "The stack"
White label fulfillment with Brison Hilton
How to use Facebook audits to land high paying clients with Zach Johnson
7 reasons why your clients will invest in your social media services
The art of negotiation with Jaiden Gross
6 steps of the sales process
Insight on landing local clients & "working the room"
The strategy behind bringing in clients with Billy Gene
The key to retaining clients with Billy Gene
Putting it all to use with Billy Gene
The closer mentality with Grant Cardone
Click here to Join Tai Lopez Social Media Marketing Agency
Social Media Marketing Agency phase 4
The name of phase 4 is automation, servicing, and building your team. These are the lessons:
Extend the lifetime value of your clients
Scaling your agency
Outsourcing
The power of collaborating with social media influencers
Know when you should start building your team with Jennifer Baca
Setting up your hiring process with Jennifer Baca
Going from zero to one million in revenue for your agency
How to kick-off and manage your clients
Fundamentals for client retention
Expediting your free social media audit with Jaiden Gross
How to create a lead generation system with Facebook Ads
Create an automated follow-up system
How to create custom conversions
Why do you need to create multiple Facebook pixels
Click here to Join Tai Lopez Social Media Marketing Agency
Is Tai Lopez Social Media Marketing Agency worth it?
This is one of the best courses about social media that helped more entrepreneurs over the years.
Furthermore, managing the social media of other businesses is a service that anyone who has skills in sales, marketing, and tech skills, can do.
The most important thing is to increase the number of clients through all platforms such as Instagram, Twitter, Facebook, Youtube, etc.
Basically, this course has 4 phases that explain the ins and out of social media.