Jonathan Montoya Freedom Accelerator review by a real user
This is my in-depth Freedom Accelerator review. This is a course by Jonathan Montoya.
Watch this video first! Welcome to my blog!
1. Freedom Accelerator review| For who is this course?
If you're looking to make commissions with high-ticket products, then you need to check out this affiliate marketing course on short-form videos. 
Although this training has a module about making Long form videos on Youtube which I absolutely love it! 
It's a comprehensive and practical guide that will teach you everything you need to know about promoting high-ticket products using these popular social media platforms such as Facebook reels, Tiktok, Instagram reels, and Youtube long and short form.
I bought the online course and I think it has trending strategies about how to start affiliate marketing using short-form videos to drive traffic to your funnel.
2. Freedom Accelerator review | Who is the teacher of this online program?
The course is taught by Jonathan Montoya which is an expert in the field who has years of experience and a proven track record of success. Also, he created Freedom Breakthrough 2.0.
He shares his knowledge and insights in an easy-to-understand way, making it accessible to anyone, regardless of their experience level.
Jonathan Montoya used to work as an electrical engineer. 
Furthermore, he started his online business in May of 2019 and it took 9 months to quit his 9 to 5 job. 
3. Why Do I like the Freedom accelerator from Jonathan Montoya?
One of the things I really like about this course is that it covers all the basics of affiliate marketing, including how to find and choose the right products, and it has a Done For you system for Crypto, Health and fitness, and Real State Niches.
Furthermore, it has the products that Jonathan is promoting in his affiliate marketing business. 
3.1 Why is it important to catch trends to make money?
One of the things I learned about making money online is that you need to catch a trend. 
Let's say for example that you started a Youtube channel in 2009.
It's going to be easier to make money from that channel than if you start today. 
That's why the best time to start a Youtube channel, Tiktok channel, or Instagram account or start posting Facebook reels, is today. 
4. Freedom Accelerator review | What will you learn in this online training?
The course includes video lessons, step-by-step guides, and lots of examples of how to start an affiliate marketing business using short-form videos. 
In fact, this is how people can make money as fast as humanly possible using the trend of short-form videos.
Although I want to let you know that is not easy because you'll need to put in the work.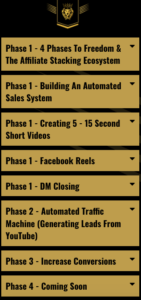 The Freedom accelerator has 4 modules:
1.1 The affiliates stacking ecosystem
1.2 Building an automated sales system
1.3 Creating a 5 – 15 second short videos
1.4 Facebook reels
1.5 DM closing
2.0 Automated Traffic Machine
3.0 Increase conversions
4.0 Automation
You also get access to a private community on Facebook where you can ask questions, get feedback, and learn from other students.
Furthermore, you'll have one coaching call every Tuesday with an instructor in which we ask questions about our affiliate marketing business. 
5. Freedom Accelerator review | What will you get when you enter the program?
In addition to the course materials, you also get access to exclusive bonuses, such as classes with Daniel Chou. 
Furthermore, you'll have access to some of Jonathan's funnels which you can model for your own affiliate marketing business.
Additionally, you can download a list of videos so you can model them to start growing your business and access Jonathan's affiliate products.
6. Freedom Accelerator review | What are the things that set apart this program from others?
One of the things that set this course apart from others is its focus on short-form videos.
These platforms such as YouTube shorts, Instagram reels, Tiktok, and Facebook reels are incredibly popular and have a huge potential for reaching and engaging with your audience.
The course teaches you how to create videos that are engaging, informative, and entertaining videos so you can drive traffic to your own funnel and make sales. 
Furthermore, one of the things that separate successful affiliate marketers who don't succeed, is that they are always looking to improve their strategies and experiment with trending platforms. 
7. What are you going to learn from this program?
The course also provides you with detailed guidance on how to set up and optimize your sales funnel system.
This includes choosing the right products, creating compelling offers, setting up landing pages and opt-in forms, and integrating email marketing and automation tools.
Jonathan Montoya shares his own experiences and strategies, as well as case studies and best practices from other successful affiliates.
I think one of the best things anyone can do whether you access the course or not, is to create their own Youtube channel and Jonathan shares his own strategies on how to succeed with that task. 
8. What are you going to learn from the Freedom Accelerator program?
Another thing that I appreciate about this course is its emphasis on practicality.
Jonathan Montoya provides you with real-world examples and actionable tips and strategies that you can implement right away.
He also offers support through a Facebook group to help you overcome any challenges and obstacles you may face.
The business model is easy but the hard thing is to do everyday things even if you don't have results.
9. Why is it important to start an affiliate marketing business ASAP?
One of the things I knew when I was working in a corporate job is that I needed to develop skills to make money online.
Because I knew that in the economy today I couldn't rely on one source of income. 
That's why I think affiliate marketing is the easiest business model to understand for anyone. 

But I'm not saying that is going to be easy to get results.
Because you need a 24/7 sales system in place so you can focus on getting leads for your business.
10. Conclusion
Overall, I highly recommend the Freedom Accelerator Program by Jonathan Montoya.
It's a valuable resource for anyone who wants to learn how to promote high-ticket products and make commissions fast using these platforms.
The course is comprehensive, practical, and easy to follow, and the instructor is knowledgeable, engaging, and supportive.
Enroll today and start learning how to leverage the power of short-form videos to grow your business and generate more revenue.
A quick story of my mistakes doing affiliate marketing! Watch the video!

If you access it through my button I'll send you my 2 bonuses 
Bonus 1: My FREE affiliate marketing training so you can get started today without paying anything.
Bonus 2: Ebook The 7 steps to becoming a super affiliate by Jonathan Montoya.