How to create your own website at wealthy affiliate
How to create your own website at wealthy affiliate.
I will take you through all steps to create a website with this platform.
Truly, if you don't have an account yet at wealthy affiliate, you can sign up right now.
STEPS FOR CREATING A WEBSITE AT WEALTHY AFFILIATE
First, you need to go to the website builder.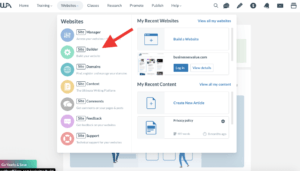 Second, you need to choose a free domain or you have one already, click on the button "Domain I own".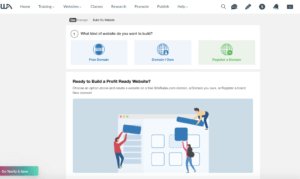 Third, if you don't have a domain, type the name of your website, the extension would be siterubix.com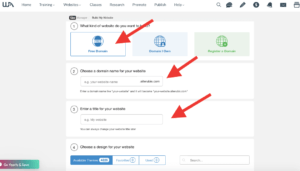 Then, Wealthy affiliate will give you the option to buy a domain.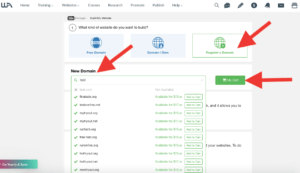 Also, type a domain name and click add to cart. In addition, these domains include SSL certificates and privacy protection.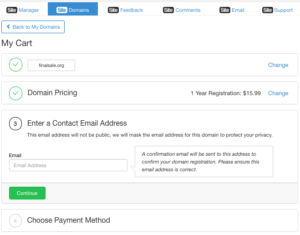 The price you see is for one year and the renewal is the same.
Then, enter an email address and choose the payment method.
Equally important, go to "domain I own" and select your domain, put the name of your website.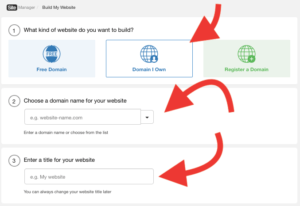 Select a theme you like. I suggest you choose a fast theme because google loves websites with high speed.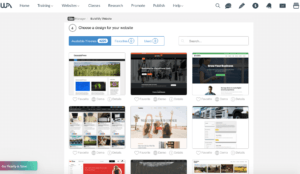 You will have a website in less than a minute. Remember that if you use a free website, this will be only available for 30 days.
Also, you will need to upgrade to premium so you can host your website inside wealthy affiliate or you will need to host somewhere else.
In addition, you'll have a WordPress hosted inside Wealthy Affiliate.
WEALTHY AFFILIATE FEATURES
Wealthy Affiliate WebSite Health.
Monitor the health of your website to ensure you have the best chances of indexing, rankings, and acquiring traffic through Google, Yahoo, and other major Search Engines.
Wealthy Affiliate Website Comments.
It's their proprietary Website engagement platform to spark discussion and see engagement within your website content.
Wealthy Affiliate Website Feedback.
You can get feedback on your website from the Wealthy Affiliate Community and learn what others think about your site design, your content, and your overall direction.
Wealthy Affiliate Website Support.
You'll have technical support available 24/7 when you need it. You can expect a response in minutes. Additionally, I'm very glad about the support because you only need to create a ticket and they will get back with a response.
Wealthy Affiliate Website Security.
It's their proprietary suite of website security including hacking, malware, and bot-net attack protection. They will keep your hard work safe.
WORDPRESS PLUGINS ARE HOSTED BY WEALTHY AFFILIATES.
Wealthy Affiliate Site Speed.
There are two options for the speed of your site. You can choose Accelerated or Extreme.
First, site speed accelerated provides a sophisticated, highly compatible, and ultra-fast caching option to vastly increase the overall speed of websites. This is the default caching option providing speed improvements for cached pages up to 20x faster than normal loading.
Second, Site speed extreme uses the same technology, as the Site Speed Accelerated, but they take the optimization one step further by combining and minifying Javascript and CSS. Experience even bigger speed gains over Accelerated and achieve the highest Google speed insight scores.
Wealthy Affiliate SSL (Https)
SSL certificate is included in the price. SSL stands for "Secure Socket Layer" and this is the best of the best security you can have on your site.
In addition, you can serve your website over 256-bit Encrypted Connections. These encryptions are favored by search engines and keep visitor data safe.
Wealthy Affiliate Site Protect (Spam Blocker)
The problem with plugin spam blockers is that the spam still hits your site, clutters your database, slows your site down, and wastes your time recovering real comments. Wealthy Affiliate Site Protect happens at the server level and blocks all automated comment spam before it even hits your site.
Why is important to have a website for your business?
It's important to have a website for your business because you'll have online visibility.
Furthermore, having an online presence these days is so important because anyone can start an affiliate marketing business, dropshipping, eCommerce, or if you want to build your personal brand.
In addition, I want you to know that having a website is only a fraction of the work you will do to build your online business.
Because you'll need to work on your traffic strategies whether it be SEO, paid traffic, social media, etc.
Why Do I like Wealthy affiliate to build my website?
I can tell you from experience about the support team which helped me to resolve some issues of my domains.
The support team is 24/7 to resolve any issue you have at the moment.
I think if anyone is going to invest in hosting, is important to have a reliable support team.
I have been using wealthy affiliate for years and it's a good system to host my affiliate websites.
Why do I think Wealthy affiliate is good hosting?
I like wealthy affiliate because I have used the service for 3 years since I started my affiliate marketing websites.
Furthermore, I think is important to have good hosting for your website.
Also, I have bought domains from the wealthy affiliate platform which is cheaper than other hostings.
Moreover, the velocity of the hosting is good because I can rank some of my articles in the first spot on google.
Is wealthy affiliate worth it to build your website?
After you have your domain in the wealthy affiliate platform.
The next step is to build your website using wealthy affiliate which is simple.
Then, you need to choose your theme for the website.
Wealthy affiliate use WordPress as the platform so you can write and build articles, pages, and categories for your website.
I have been using wealthy affiliate to build affiliate marketing websites with good results.
Is wealthy affiliate easy to use to build your first website?
I'm going to tell you my truth.
First, I'm a chemical engineer with zero experience on how to build websites.
I'm going to talk about my experience.
The website creation using wealthy affiliate has been so easy that is intuitive to use it.
Although the success of a website depends on the niche you'll talk about, the frequency of your posting, the keyword research, etc.