GetResponse review: E-mail marketing software the Pros and Cons
Are you searching for new email marketing tools? In this Getresponse review.
I will explain why this software is an all-in-one platform to grow your business to the next level.
If your answer is yes, then you've come to the right place.
The Getresponse software offers a unique way to grow your email list, do webinars, and many other things.
This is an in-depth Getresponse review, and I'll explain to you the pros and cons of this E-mail marketing Software.
I want to give you the best tip in the first part of this article, your email list is the most important asset of your online business, but first, I want to tell you about my story.
I'LL TELL YOU MY STORY…
Due to the Coronavirus pandemic (COVID-19), many people don't have work or they are trying to earn some bucks on the internet.
It happened to me, you know very sad that the company for who I worked fired me, even though I had good results in the last year because I sold approximately 400,000 USD over the year with good profit and they did not care at all.
Additionally, that is the reality of a lot of people who don't have multiple streams of income and don't know what to do.
Therefore I decided that I'm not going to work for no one else, instead, I'm going to take action and learn skills to improve myself.
I waste too much time working for someone else!
Keep working on yourself
I truly suggest thinking about it, because maybe you have a job now but you don't know what is going to happen tomorrow. If you have a job now is the time to invest in yourself and if you don't have one I suggest to you go ALL IN my friend.
In addition, if you want to get better in your life you need to take action and develop new skills, accordingly to the things you want in life.
So now, let's go back to the getresponse review.
I'm going to respond the question: What is getresponse?
Getresponse is one of those tools that continues to deliver great results and expanding its features.
The software continues to provide the best email marketing tools so they can help you to grow your online business.
Getresponse features.
You can see a picture of the Getresponse's features. You can do email marketing, autoresponders, automation flows, webinars, chats for your landing pages or websites, conversion funnels, landing pages, forms and surveys, and websites.
Email marketing Tool.
The email marketing service is one of the best because you can use a lot of templates. You have two options because you can build an email from scratch or a pre-design template. In addition, you can select a template from a multiple of categories such as celebration, education, promotion, etc.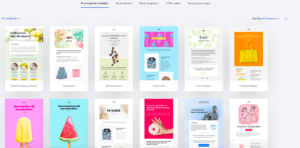 What is Getresponse Autoresponder?
You can use the autoresponders feature of Getresponse when you want to create a series of emails that you need to send to a group automatically.
Getresponse Automation.
The Getresponse automation feature can help you to generate more sales and revenue for your business.
You can create a workflow that is an email sequence for your new subscribers. For this, you can choose a template or you can build one from scratch.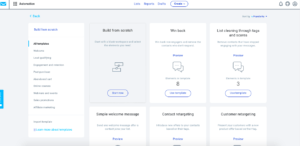 For example, when you have a new subscriber you run the workflow and getresponse send all the emails that you have written previously.
The workflow builder will help you to automate your email so you can just relax and getresponse do all the work.
Getresponse Webinar review
Getresponse is an all-in-one platform so you can do webinars for promoting your products, build your email list, and so much more.
The webinar feature is for the Plus Plan and to create a webinar you need to set up the information on getresponse. Such as the name and some basic settings.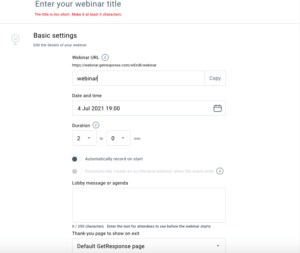 And also you need to setup some registration and subscription settings:
Click here to access Getresponse 30 day free trial. 
Getresponse Chats.
The chat is a new feature from the Getresponse software.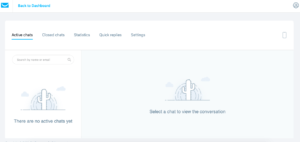 You can save time with quick replies.
Also, you can send files in chat message. This is helpful because you can attach files and images right in the conversation.
The best part is that you can convert visitors into contacts, because you can add them to your list.
Sales Conversion Funnel.
The Sales Conversion Funnel will help you to create a high converting Funnel so you can turn your visitors into customers.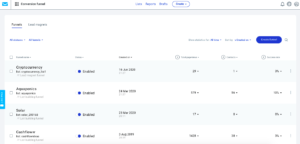 First of all, you need to determine the goal of your Sales Conversion Funnel.
You have two options:
First, you can build a sales conversion funnel with a lead magnet. In this option, you can give a valuable resource in exchange for their email.
Second, you can build a standard opt-in funnel. You only ask a visitor to subscribe without a special offer.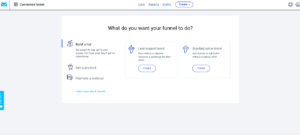 I like Getresponse because they have a selection of lead magnets you can use for your funnel.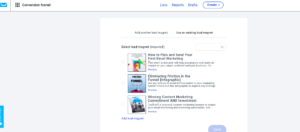 On the next step, Getresponse will show you the Funnel with the stats.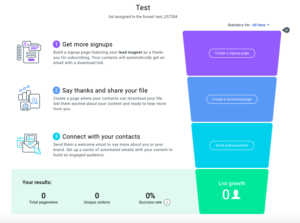 Finally, you need to create a signup page, download page and set up the autoresponders, so finally you can drive traffic to your Funnel.
Getresponse landing page.
The Getresponse landing pages are your assets on this business because they will convert a visitor into a subscriber.
You can create a landing page by selecting from the library.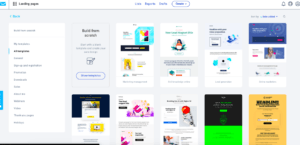 Forms and surveys.
The Getresponse software will help you to create forms and surveys easily.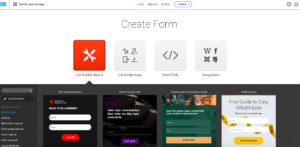 You can use the list Builder wizard, list builder apps or the HTML to create your forms.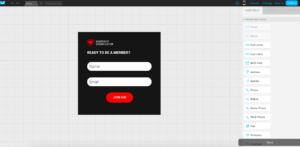 Also, you can edit the form, and then you need to publish it so you can put it on a website or drive traffic direct to the form.
Getresponse Website Builder.
There is a new feature, the website Builder, and you can build an entire website on getresponse.
You have two option for building a website: you can use a ready made template or use an IA powered builder.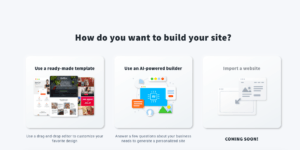 You can use the ready-made template and select a theme you like.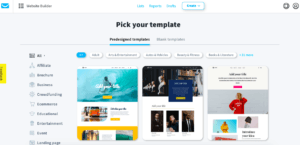 Also, you can use the IA-powered builder in which you answer the questions so the builder can make you a website.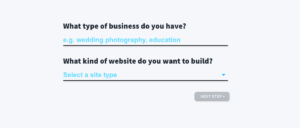 Once your website is finished you need to drive traffic to start collecting leads. Additionally, you can set up your Google Analytics, Facebook Pixel, Google Tag Manager, and Yande.
In addition, you can use the Getresponse domain to publish your website or you can use your domain, and also, you can buy a domain from getresponse.
Equally important, you can optimize the site for SEO so you can rank in google.
Getresponse pricing.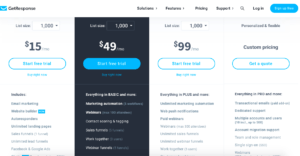 There are four types of plans: BASIC, PLUS, PROFESSIONAL and MAX. You can find more information on getresponse website.
Getresponse Pros.
Getresponse Basic plan has everything you need such as email marketing, landing pages, form and surveys, e-commerce tools, website builder and the tracking reports.
Also, Getresponse has 150 integrations with third-party platforms.
Furthermore, the customer service is 24/7 with live chat. I used chat support, and they always helped me with any advice.
Additionally, you can do a lot of things with this software because you can build a Website and that's a lot of work if you are using a platform like WordPress, and with getresponse, you don't need to add plugins that make your website slow or have a hard time with the code.
Finally, I like Getresponse because they are always updating the software, for example, the website builder is a new feature that will allow you to build a website very easily, fast, and clean.
Getresponse Cons.
You have a limited number of forms and landing pages.
It's hard to attach a file when you are going to send an e-mail. Indeed, I don't know how to do this. The only way to share documents I know is by using a link for the file.
Also, there is a limit on the features that depend on the plan you buy.
Why is important to have software for email marketing?
Email marketing is one of the things you need to stay in touch with your subscribers.
Through email, you can build a connection with your customers.
Additionally, you can give value such as information, videos, reviews, updates, etc. anything you can share with them.
In addition, email is a piece of valuable information for you to have to scale your own online business.